The new Dynamic Fuel Management feature makes the updated 5.3L and 6.2 V8 engines on the 2019 Silverado the most advanced gasoline motors ever released by Chevrolet. For the first time ever, an auto manufacturer is offering cylinder deactivation technology that allows the motor to operate in 17 different cylinder patterns for optimizing efficiency and power delivery.
Chevrolet's chief engineer described Dynamic Fuel Management as the natural progression from the cylinder deactivation system, Active Fuel Management, first introduced in 2005. Dynamic Fuel Management technology allows the engine management system to choose when it's more efficient to use fewer cylinders instead of them all. This latest version is described as the natural progression of Active Fuel Management technology.
Dynamic Fuel Management is designed to deliver the proper balance of power and fuel economy needed in different driving situations. Active Fuel Management only alternated between four and eight-cylinder modes, offering far less authority and continuous optimization of power and fuel efficiency that the 17 cylinder patterns with DFM offer at every speed.
On an industry-standard test schedule, the two-wheel drive 2019 Silverado equipped with DFM and a 5.3L V8 used less than eight cylinders over 60 percent of the time. The DFM technology in 2019 models reduces the number of cylinders used 9 percent more frequently than the 2018 Chevrolet models equipped with AFM.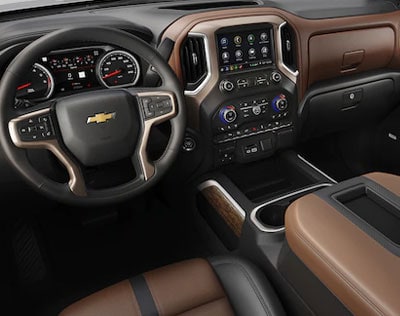 The DFM technology constantly monitors movement made with the accelerator pedal and runs an algorithm to determine the number of cylinders needed to provide the amount of torque requested by the driver. DFM also controls valve actuation with an electromechanical system that deactivates or reactivates all 16 hydraulic valve lifters on the engine. The calculations DFM runs for determining the optimum number of cylinders to use can occur up to 80 times per second.
DFM provides more variability, allowing the engine to operate on fewer cylinders more frequently, which improves fuel economy and lowers gas costs. Since the DFM system is torque-based, drivers are still satisfied with the powerful response they're accustomed to expect with small block V8 Chevy engines. The 5.3L V8 produces 355 hp and 383 lb-ft of torque with an 8-speed automatic transmission. The 6.2L V8 produces 420 hp and 460 lb-ft of torque on 10-speed automatic transmission.
The Hydra-Matic transmissions matched to each engine are designed with enhancements to help improve shift quality and make rides smoother during times of cylinder deactivation. DFM also provides start/stop driver-selectable technology that can help vehicles save gas while stuck in stop-and-go traffic. The DFM technology is available in several different trim levels for the 2019 Silverado.
If you want to learn more about the Dynamic Fuel Management technology offered in the 2019 Chevrolet Silverados, head down to Van Chevrolet dealership or contact one of their representatives for more details.