Chevrolet manufactures vehicles that are designed to withstand a number of tough conditions, but winter can be a challenging time for any driver. The cold temperatures, snow and ice can make it difficult to drive. These conditions can also wreak havoc on your vehicle. Now that the winter is rapidly approaching, let's look at some ways that you can get your car winter-ready. This ensures you are safe. It also ensures that your vehicle will emerge in good shape this coming spring.
Oil Change Maintenance
A routine oil change will protect the inner workings of your vehicle when it is exposed to those bitter cold temperatures. Water entering your engine compartment can be a danger as well. Making sure to invest in a high-quality oil brand will help protect your vehicle. Make sure to have your oil filter changed. This keeps particulates out of your engine. Chevrolet offers up recommendations regarding the type of oil you should use for your specific vehicle, and how often your vehicle should receive an oil change. Give us a call if you need information on this topic.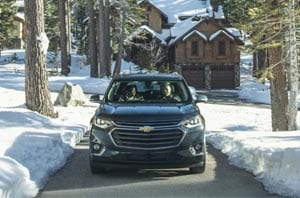 How is the Battery Affected by the Cold?
Have your battery inspected prior to the winter. The colder temperatures can greatly affect your battery's ability to start your vehicle. You want to make sure that your battery is charging properly, and that your battery has the ability to hold its charge. A simple volt test can let you know if your battery is in need of service or replacement. This is a relatively affordable investment to make. One way that you can keep your battery running properly, is to make sure you don't leave anything running in your vehicle when you have parked for the day. Don't leave your lights on, or leave an unnecessary draw going on your battery.
Fluids Should Be Kept Topped Off
There are a number of fluids that you should check on a regular basis. Coolant levels and oil should be at adequate amounts. Your windshield wiper fluid should be filled regularly. This is very important when it comes to keeping your windshield clear in the winter. Also, don't forget to fill up your gas tank regularly in the winter months. Drivers should strive to keep their tank at least half full at all times. This will provide you with plenty of gas if you are stuck in a traffic jam because of the weather.
Do I Need to Have My Tires Checked?
Your tires are one of the most important parts of your vehicle during the winter. If you have worn out tires that have minimal tread left, this can greatly impede your vehicle's ability to grip the road as your drive. When the road is covered in ice and snow, the last thing you want is to have traction issues. You should also make sure that your tires are wearing down evenly. This will ensure your vehicle doesn't have ongoing problems with its braking system or suspension. Keep an eye on your tire pressure. The cold air condenses the air that is in your tires. Low air pressure can lead to a pretty poor grip on icy roads. This is a safety concern.
If you are in need of assistance regarding your vehicle's winter maintenance, stop down to Van Chevrolet. We have a very experienced staff of service technicians that can get your vehicle ready for winter in no time. We provide you with the peace of mind that you need, knowing that the cold winter months are coming up soon. You can't stay home all winter long. Make sure that you can get where you need to go with minimal issues from your vehicle's standpoint.