Van Chevrolet Previews the New Camaro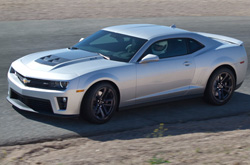 Scroll past the 2013 Chevrolet Camaro review video below to start reading about the new Camaro. Stop worring about your next Chevrolet purchase; look to the premier Camaro dealership in Kansas City for well researched reviews authored by automotive enthusiasts. This Chevrolet review article contains everything you need to know about the Camaro and it's specifications, mpg and more. Read on, but don't hesitiate to contact Van Chevrolet for more Camaro information.
Take a Video Tour of the 2013 Chevrolet Camaro
Overview of the 2013 Chevrolet Camaro in Kansas City
Quick Stats for the Chevrolet Camaro
When considering the 2013 Chevrolet Camaro against the 2013 Hyundai Genesis Coupe, Dodge Challenger, Ford Mustang and the Nissan 370Z, and you can notice that the Camaro outshines those autos in several parts. Look through the hightlights below.
2013 Chevrolet Camaro Body Style(s): Coupe, Convertible
2013 Chevrolet Camaro Seats: 4 passengers
2013 Chevrolet Camaro 0-60 MPH in 4.7 seconds
2013 Chevrolet Camaro MPG: 17 city / 28 highway
2013 Chevrolet Camaro MSRP: $23,345
2013 Chevrolet Camaro Cargo Space: 11.3 cubic feet
2013 Chevrolet Camaro Colors: Blue Ray, Silver Ice, Rally Yellow, etc...
Get cash for your trade when you purchase a Chevrolet Camaro
Features, Trims & Other 2013 Chevrolet Camaro Highlights
Camaro Engine Options for Kansas City Chevrolet Shoppers
2013 Camaro Warranty & Safety Technologies
Van Chevrolet's Service Center Is Here for You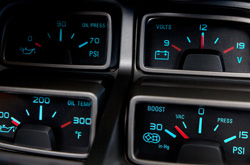 Van Chevrolet auto repair service in Kansas City is only a click away! Your Chevrolet deserves to be treated thoroughly - that means Chevrolet factory- trained technicians, real 2013 Chevrolet Camaro parts, and the sense of contentment that comes from a 12-month service work warranty. If you shrug off getting trustworthy repair work, your Chevrolet Camaro's physical shape might weaken, so take it to the esteemed mechanics at Van Chevrolet. We handle a gamut of jobs with ease, including Chevrolet serpentine belt replacement, in-cabin air filter checks and, of course, tough tasks like transmission repair - and this is just a tiny part of what we can take on. Above this, Van Chevrolet offers exemplary customer service and thrifty prices. When you stop by Van Chevrolet's service department, take advantage of insane savings with our unbelievable specials. Click underneath this sentence!
We're always open online- find Chevrolet repair specials now