Van Chevrolet's 2015 Corvette Review and Research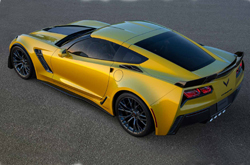 This 2015 Chevrolet Corvette review has one question. If you were a superhero what kind of car would you drive? The Batmobile is already taken, but Chevy has the answer with their just introduced new Stingray model that would have even Bruce Wayne rethinking his famous black roadster: the 2015 Chevrolet Corvette in Kansas City. Being hailed as the first "supercar," this bad boy has 650 horsepower and 650 lb-ft of torque, making it one of the top horsepower cars on the market, only beat by other notable names like Ferrari and Lamborghini.
This new superhero is the follow-up model to the reintroduced Stingray model from last year. This new Stingray not only boasts a higher horsepower and torque, but also a new lightweight aluminum frame that is much more rigid than its predecessors. Add to that a carbon-fiber hood and removable roof panel, this car really does hit the road in style.
The key phrase for these 2015 Chevrolet Corvettes for sale in Kansas City, though, is aerodynamics. Built for the racetrack this car has a V8 engine tucked beautifully into three levels of aerodynamic downforce features. The standard trim comes with a front splitter, a rear spoiler, and spats around the front wheel openings. The next trim adds aviation-style winglets and a larger rear spoiler with a fixed wickerball. Finally, the top trim comes with larger winglets and a transparent center section on the spoiler, meaning that you don't have to be Superman to make this thing fly.
The Z06 is likely to replace the ZR1 as Chevy's top Corvette model. And speaking of the rest of the redesigned Stingrays, the big difference from their 2014 brethren is a new eight-speed automatic transmission available for all trims, though don't panic manual lovers, the standard six-speed is still offered.
So what has this 2015 Chevrolet Corvette review taught us? That if you're looking for style, speed, and unbelievable power, the Corvette Stingray is definitely for you. Though it's probably best to leave the bat signals to the caped professionals.