About the Chevrolet Impala in Kansas City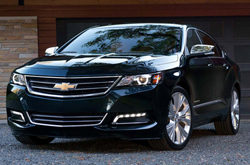 Chevrolet's Impala has always been the ultimate sedan, whose basic appeal has lasted for decades. The Impala shines in terms of beauty and utility, and with the introduction of the 2015 Chevrolet Impala in Kansas City, this classic car is coming fully into the 21st century.
With this newest version, Chevrolet didn't recreate the wheel, they just rounded it out a bit. The 2015 model still boasts the beauty and value of its predecessors, but adds more safety features than one can count. This new guy has parking sensors, ten airbags, blind-spot monitors and can be fitted with adaptive cruise control. A rearview camera is offered on almost all trims. And to top it all off, it has earned a top five-star overall safety rating from the IIHS, including five-star ratings in frontal and side impact.
Another big plus with the Impala is space. The 2015 Chevrolet Impala in Kansas City offers Missourian drivers some of the best overall interior space on the market. A spacious trunk is also a highlight as is its front seats that offer fantastic support.
The 2015 Impala carries over all its trims from last year: the LS, LT, and LTZ, though no big changes on any individual trim. As far as updates to the infotainment section, the 2015 Chevrolet Impala offers Bluetooth audio streaming and Chevy's MyLink system that works with the eight-inch touchscreen LCD.
Now it's time for this 2015 Chevrolet review to talk engines. Base versions carry a 2.5-liter four-cylinder, and while it offers ample power, the V-6 is what really brings the Impala to life. The new V-6 is 3.6-liter and is rated at 305 horsepower with a six-speed automatic. With the V-6, the car handles wonderfully and its strong acceleration will be exactly what most Impala drivers are after.
So what's the conclusion of this 2015 Chevrolet Impala review? If you want beauty, brawn and terrific safety features then the 2015 Chevy Impala is right for you.