About Chevrolet Reviews From Van Chevrolet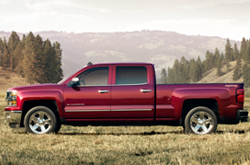 Born to tow and handle tough payloads, the Chevrolet Silverado has made a name for itself as the go-to vehicle for all your pullin', carryin' and truckin' needs. The newest feature to come out of the 2015 Chevrolet Silverado lineup is the 2015 Silverado High Country HD. The High Country is a great Silverado variant that provides ample power as well as a luxurious feel that had been previously reserved for other brand lux trucks. Keep scrolling to see the rest of our 2015 Chevrolet Silverado review.
This new addition is a follow-up to last year's new 2014 Silverado High Country and is Chevy's first high-end heavy-duty pick-up truck. This bad boy comes in 2500HD and 3500HD trims with the 3500HD having tow ratings up to 22,900 lbs. for fifth wheel towing and up to 19,600 lbs. for conventional towing. The luxury bit comes into play in the cabin's saddle brown interior, Bose audio system, front-and-rear park assist and heated perforated leather front bucket seats that come standard.
So what's on tap for the rest of the 2015 Silverado trims? Well the 2500HD and 3500HD trims have some great new features this year. Nearly identical to the 1500 trim on the outside, the HD trims distinguish themselves in their towing capabilities. In the 2015 models, Chevy has enhanced the engine cooling system through aerodynamically optimized ducts and front-end sealing to get the most out of its towing prowess.
The HD trims also get the 1500's cab upgrades that include triple-sealed doors for reduced noise, stiffer construction and a stylish interior. In the realm of infotainment, SD card, USB and power ports are available, and as always, Chevy's MyLink system is standard on almost all trims.
So what's the verdict for this 2015 Chevrolet Silverado review? Will it be to tow or not to tow? Well we say, "tow away"! The 2015 Chevrolet Silverado for sale in Kansas City is a great luxury pick-up that offers comfort, style and most importantly power for all your totin' needs.