Quality Chevrolet Volt Research From Van Chevrolet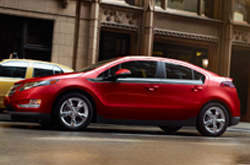 Debuting in 2010, the Volt was a pioneer in the hybrid car market. And with new features and upgrades, the 2015 Chevrolet Volt for sale in Kansas City is just getting better and better.
Our 2015 Chevrolet Volt review is excited to share some of the biggest news for the 2015 model: it's new lithium-ion battery pack. This new pack offers 17.1 kilowatt-hours, a nice improvement on last year's 16.5 kWh. But the best news is what this increased power will do. The Volt already gets 38 miles on electric power alone, but with the new battery that could be upped to 40 miles. And it's not until those 40 miles are done that the gas-powered 1.4-liter four-cylinder engine kicks in.
Thanks to this innovative design, the best feature our 2015 Chevrolet Volt review found was that many Volt owners have reported going nearly 900 miles in between trips to the gas station. That's the kind of news that would have many Chevy consumers doing a happy dance.
Outside of the new battery pack, not much has changed on the 2015 Chevrolet Volt in Kansas City. The aerodynamic hatchback frame and four seat interior all remain the same, and the Volt's graphic displays continue to be one of the best vehicle information displays on the hybrid market.
As far as safety goes, the 2015 Volt is designated with the Top Safety Pick+ rating. And the Volt continues its five-star overall ranking by the NHTSA due largely to its forward collision warning and lane-departure warning that comes standard, as does electronic stability and traction control systems.
The best part about the 2015 Chevy Volt though will be how quickly it becomes part of the family: it has become one of the best owner-reviewed cars on the market. So take a test drive at Van Chevy and see for yourself how the 2015 Volt will give you all the jolts of happiness that a great hybrid car can provide.