Kansas City Chevrolet Dealer Reviews the 2016 Silverado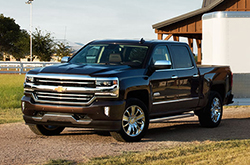 The always in demand Chevy Silverado has undergone a complete facelift for 2016. With competition in the full-size pickup truck segment at a new high, Chevy decided to spruce up the Silverado, giving it a brand-new bold appearance. From the body panels to the headlights, almost every exterior component was modified on the 2016 Chevy Silverado. A small collection of technological and mechanical changes were also made to the pickup, strengthening its capabilities. Take a look at our comprehensive 2016 Chevy Silverado review below to discover more details about the model's recent revisions.
The most prominent update made to the 2016 Chevy Silverado in Kansas City is its redesigned exterior. In an effort to keep the pickup in line with its competition, Chevy gave the Silverado all-new dramatic styling and got rid of a few features, including the truck's dual-stacked headlights. A freshly sculpted hood covers the engine and chiseled body panels give the pickup an aggressive demeanor. New frontend designs further accentuate the Silverado's latest aesthetic and smaller headlamps deliver a piercing glance. Upper trim levels take the new look one step further with the addition of two LED strips separated by a well-placed accent bar.
On the mechanical front, the 2016 Chevy Silverado in Kansas City offers expanded use of eight-speed automatic transmissions. This will allow buyers to take advantage of the automatic transmission on a variety of trims throughout the lineup. In addition to this modification, Chevy's MyLink infotainment system has been updated to support Apple CarPlay and Android Auto. Each of these new systems enhances the driving experience by giving drivers the chance to access their smartphone apps through the truck's infotainment system (Chevy MyLink). Due to this ability, both systems keep drivers connected while on the go and work to reduce distracted driving.
For more information about the Silverado and its abilities, continue to browse our 2016 Chevy Silverado review.