2015 Camaro Research and Review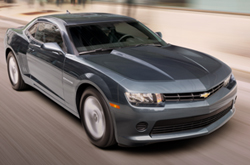 Vintage is everywhere these days. Vintage clothes. Vintage hair. But most especially vintage cars. The old guard that were pure muscle and impressive speed. But even the most perfect vintage cars have their drawbacks. Some of the main ones being say lack of air conditioning and seat belts. So what is a vintage-loving Missourian shopper to do when they want the muscle of the past and the luxury of the future? Look to the 2015 Chevrolet Camaro in Kansas City, that's what.
Last year, Chevy came out with a wholly redesigned version of their classic Camaro with everything from souped up horsepower (500) and torque (470 lb-ft), as well as a 7.0-liter LS7 V8 engine in their Z/28 trim, all while going back to the lighter materials and retro styling similar to that of their 1960s first-gen Camaros. Continue reading below for our full 2015 Chevrolet Camaro review.
This year is no different with the most significant change being the new central gauge-cluster information center that continues the retro feel and will have grandpa reminiscing about times spent under the hood.
As with the 2014, 2015 Chevrolet Camaros for sale in Kansas City are available in Camaro, SS, LS, LT, ZL1, and Z/28 trim levels. But if you're serious about the Camaro you really want to look at the new Z/28. This guy is the crème de la crème of the Camaro trims, and has the speed and stability that is essential in a sports car of this power.
On top of that, the 2015 model just earned the top five-star overall safety rating from the NHTSA thanks to its Rear Vision package, side curtain airbags in the coupe models, and their infamous electronic stability control system.
Now that you've got the basics, keep scrolling for our continued 2015 Chevrolet Camaro review for all the specs, inventory, and a video tour. And be sure to visit Van Chevy so you can see this rock star car in action firsthand.