Review the 2015 Colorado from Chevrolet Dealer in Kansas City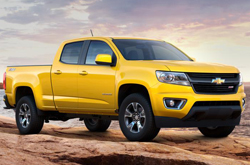 In this year's 2015 Chevrolet Colorado review, we're saying hello to an old friend who went away to backpack across Europe for a few years, but has now returned to home to stay and finally get a real job. That's right guys, the Chevrolet Colorado is back in the good, old U. S. of A, and we couldn't be happier.
For those of you new to the Colorado, it's essentially Chevy's answer to the compact pickup, and the 2015 Chevrolet Colorado for sale in Kansas City is a great, new version of the old classic that is at once a "lifestyle" truck, while at the same time handles towing (up to 6,700 pounds) and large payloads with the best of them.
This great towing capacity is largely due to the Colorado's superb engine options that includes the standard all-aluminum 2.5-liter four-cylinder that produces 193 horsepower and 184 lb.-ft. of torque. Upgrade to the 3.6-liter DOHC V-6 engine and you'll get 302 horsepower and 270 lb.-ft. of torque.
The 2015 Chevrolet Colorado in Kansas City offers two cab options: the standard Crew Cab with four full doors or the Extended Cab with rear-hinged doors. The Crew Cabs will be fitted with beds up to 6.1 feet, while the Extended Cab comes standard with the 6.1-foot bed.
The Colorado's trim levels will be the basic Work Truck version followed by the LT then finally the top trim (off-road focused) Z71. The Z71 has the most toys and features: 17-inch wheels, unique headlamps and dark-metal grille trim. It also comes with an eight-inch screen along with other optional infotainment features, including Bluetooth connectivity, multiple USB ports and a navigation system complete with GM's OnStar service.
On the safety front, our 2015 Chevrolet Colorado review found the pickup's features to be pretty impressive. Stuffed with six airbags, hill start assist, stability control with trailer-sway control, lane-departure warning and forward-collision alert systems, the 2015 Colorado is definitely setting itself up to be a top-selling member of its class.