2015 Suburban Research and Review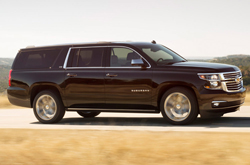 Next year is a big year for Suburban as the Chevrolet classic turns eighty years old. First debuting in 1935, the Suburban is now on its twelfth generation, and our 2015 Chevrolet Suburban review is here to tell you all about it.
The 2015 Suburban is a nice marriage between the classic and the new. Inheriting the same upgrades that other SUV models got last year during their redesigns, the 2015 Chevrolet Suburban, on sale now in Kansas City, offers an all-new 5.3-liter, small-block V-8 engine, improved safety and infotainment tech and a stiffer ladder frame chassis. But while the interior is new, the exterior, excepting a new front end, still holds the same look that made the Suburban a classic.
Looking under the hood, the 2015 Suburban's all-new engine is part of the Ecotec2 engine family and thus gets the direct injection, variable timing and Active Fuel Management cylinder-deactivation features that make the 2015 Suburban one of the most fuel efficient vehicles in its class. The new engine also boasts increased horsepower (355) and torque (383 lb.-ft.) than the outgoing model with all that power routed through a six-speed automatic transmission.
Moving on to safety, the 2015 Chevrolet Suburban in Kansas City offers new front-center airbags, blind-spot monitors, lane-departure warning system and front parking sensors. And two great new features round out the safety system: the seat-mounted haptic driver alert system as well as the head-up display that keeps key information (speed, lane markings, etc.) in the driver's line of sight.
In the realm of infotainment and tech, the 2015 Suburban offers keyless entry, an 8.0-inch LCD touchscreen, Chevy MyLink, push button start and up to six USB ports and power outlets.
So what' the conclusion of this year's 2015 Chevrolet Suburban review? Is this new classic your family's new car? Well from our view, the Suburban has been around for eighty years for a reason, and with all these new features and amenities, the 2015 Chevy Suburban is the right choice for any family unit.