Chevrolet Dealership in Kansas City Reviews the 2015 Tahoe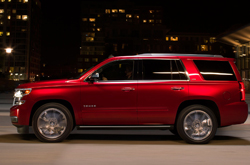 Remember Chevrolet's old "Like a Rock" slogan from the '90s? Those old commercials that showed Chevy's pickups and SUVs lugging and towing every big and heavy thing they could find?
Well, if any Chevrolet model in their 2015 lineup deserves the old moniker, it's the 2015 Chevrolet Tahoe. This big guy can still tow and transverse difficult road surfaces like no other. Keep reading this 2015 Chevrolet Tahoe review for all the details on the Tahoe's latest redesign.
Chevy imbued the new 2015 Tahoe with all the power and brawn necessary for such a SUV. Not only did the new 2015 Chevrolet Tahoe for sale in Kansas City get a strengthened, fully boxed ladder frame, but its front end has been rounded to give it better aerodynamics.
This year GM has added their Magnetic Ride Control adaptive suspension that will make the Tahoe that much more capable on tougher terrain. And the overall suspension has been tuned giving the 2015 Tahoe an impressively quiet, comfortable ride.
The all-new interior is another great feature in the 2015 Chevrolet Tahoe in Kansas City. With stitched leather and vinyl, metallic-looking trim and a new tilted dashboard, the 2015 Tahoe feels less like a truck on the inside and more of a touring vehicle. Chevy's standard infotainment system comes with the Tahoe such as Chevy's MyLink, an eight-inch touchscreen and keyless entry.
A slew of new safety features are now offered including forward collision alert, lane-change assist and adaptive cruise control. Under the hood, the Tahoe gets the all-new 5.3-liter small-block V-8 from the Ecotec3 family. And as far as power goes, the 2015 Tahoe has 355 horsepower and 383 lb.-ft. of torque, all routed through a six-speed automatic transmission.
So does our 2015 Chevrolet Tahoe review recommend this newest redesign? You bet we do! A leader in its class, the Tahoe is one of the best SUVs on the market and this new version captures what's great about the past and what's exciting about the future.