About Chevrolet Reviews From Van Chevrolet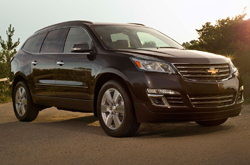 For a whole new generation of soccer moms and stay-at-home dads, the 2015 Chevrolet Traverse, now for sale in Kansas City, is the go-to crossover SUV.
Perfect for families, this very spacious SUV is one of the most passenger-friendly cars on the market, with three rows that can hold up to eight people. And with ample cargo space, up to 117.5 cubic feet, the Traverse really packs a punch to its smaller competitors.
Not much has changed on the Traverse in the last five years, though the 2014 model did receive some upgrades to the exterior. The interior continues to be all about function with its extended seating that's perfect for kids and groceries as well as sporting some nice new touches such as heated and cooled leather seats on the LTZ trim.
Speaking of trims, the 2015 Chevrolet Traverse in Kansas City is available in LS, LT and LTZ trim levels. The base LS comes standard with keyless entry, Bluetooth connectivity, a rearview backup camera and a 6.5-inch touchscreen display. The LT trim adds a leather-wrapped steering wheel, power liftgate and rear park assist. Finally, the top tier LTZ trim brings in dual exhausts, a heated steering wheel, a Bose premium audio system and blind-spot monitoring.
Now it's time for our 2015 Chevrolet Traverse review to talk about engines. Imbued with a fantastic 3.6-liter V6 engine with variable-valve-timing tech and direct-injection, the Traverse has a nice sense of balance in both power and fuel economy. Adding to that, the LS and LT trim engines get 281 horsepower, while the LTZ trim gets a boost in power with 288 horsepower thanks to its dual-exhaust system.
So is the new 2015 model right for you? This 2015 Chevrolet Traverse review certainly thinks so. Affordable, functional and full of power, the 2015 Traverse is the family car for a new generation and beyond.