About the Chevrolet Trax in Kansas City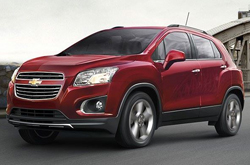 Not many brands can compete with Chevy's diverse lineup. Sporting everything from the large Suburban SUV to the Spark minicar, Chevy offers a little something, or a big something, for everyone. And now they've added one more option that is sure to have consumers buzzing, the all-new (in the U.S.) 2015 Chevrolet Trax. Having been on the roads already in Mexico and Canada, the Trax is Chevy's answer to the growing popularity of the crossover.
As with other small crossovers, the Trax is definitely compact, though it does offer a surprising amount of interior and cargo space, up to 48 cubic feet, and when you fold down the front passenger seat the Trax can fit items up to 8 feet long.
Keeping in line with other Chevy models, the Chevrolet Trax for sale in Kansas City is available in three trim levels: the LS, LT and LTZ. The interior materials are the main focus of each trim upgrade as engine power and most infotainment features come standard, or can be added, to any model.
Speaking of infotainment, the 2015 Trax offers Cheyv's MyLink system, Siri Eyes Free capability and 4G LTE service with a Wi-Fi hotspot. And as far as gadgets are concerned, our 2015 Chevrolet Trax review was pleasantly surprised by the standard equipment offered on all trims that includes a backup camera, remote keyless entry and plenty of storage space.
The engine was also a nice surprise for our 2015 Chevrolet Trax review as the crossover comes with Chevy's terrific 1.4-liter turbo four-cylinder that gives the car 138 horsepower and 148 lb.-ft. of torque.
So is the 2015 Chevrolet Trax in Kansas City right for you? Well if you love a great-looking, affordable crossover with excellent tech, terrific power and lots of space then the 2015 Chevy Trax is the crossover you've been waiting for.