Chevrolet AC Repair in Kansas City, MO
Are you feeling stressed out or frustrated by an issue with the air conditioner in your Chevy? You understandably want to feel comfortable each time you get behind the wheel of your car, but issues related to air temperature, the flow of air and more can negatively impact this. When the temperature outdoors reaches extreme levels, it could even be unhealthy to spend time in the car when the AC is out. Many Chevy AC repair issues can quickly be remedied through a fast repair service at our service center. Our auto technicians have the know-how, equipment and parts necessary to complete most repair services on the spot.
Cool Air Is Not Blowing Hard Enough Through the Vents. What Can You Do?
While you understandably need cool air to circulate throughout the vehicle's interior on warm weather days, you also need enough airflow to remain comfortable. Weak airflow is a problem that many drivers may have to deal with at some point because several issues can cause it. Everything from a loose hose and a damaged seal to mold growth on the evaporator and ventilation fan damage can be culprits. The first step our certified auto techs will take is to diagnose the cause so that we can complete the repair work right away.
The Air Temperature in My Chevrolet Is Too Warm. Can You Make It Cooler?

Another common AC issue relates to the temperature of the air. Several causes can result in warm air blowing through the vents immediately when the AC is turned on. These include damage to the blower or compressor, a broken condenser, vacuum seal damage, a Freon leak and more. Another similar issue is when cool air initially pumps through the system, but this air gradually becomes warmer as the system continues to be used. Causes of this type of warm air issue include a blown fuse, a compressor clutch issue, broken or leaking seals, a valve blockage and several other causes. Regardless of the reason for your Chevy's AC issues, rest easy knowing that we can repair the damage without delay.
Can Your Technicians Repair an AC System Leak?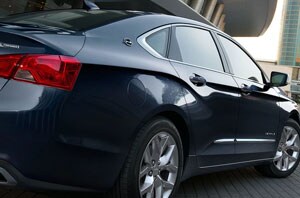 A small AC system leak may seem like a minor issue that you can delay getting service for, but this actually can quickly turn into a serious issue. When a tiny leak is located in any area of your AC system, wetness can penetrate into the system and can interact with refrigerant. This interaction produces a corrosive element that creates rapid and severe damage to the system. You can see that repairing a leak before this interaction takes place is essential, and you can count on us to get the work done as soon as possible.
Why Does My Car's Air Conditioner Smell Bad?
When you initially notice a bad smell in your Chevy, you may look under the seats and in storage areas for an item that may have been left in the vehicle by mistake and rotted. However, many issues with a smelly car are caused by the AC system. An old or dirty air filter, for example, may need to be replaced to remove the foul odor. Mold growth on the evaporator case could also be creating the odor. A blocked drain line can cause wetness to remain on the evaporator case, and this causes smelly mold to grow. If we determine that this is causing the bad odor in your car, we can clear the line and clean the mold. As you can see, there are many easy repair services that we can complete to address common AC issues. Schedule an appointment with us for AC service today.