Are You Wondering, Where Can I Find A Chevrolet Tranmission Repair Center Near Me?
Through our Chevrolet dealership's auto service center, you can enjoy quality results with a timely response each time you request service from our certified team. We can work on all Chevy models, and we can complete any type of service that is needed with exceptional workmanship. The transmission of your Chevy car, truck, SUV or minivan is an essential system that is responsible for controlling how the power and torque from the engine are used in the vehicle. As you can imagine, your Chevy would not be able to run as needed without the transmission. Periodic transmission maintenance work is required to keep this system functioning well and to decrease the chance of you having to endure a frustrating and inconvenient vehicle breakdown.
What Does Your Chevrolet Service Team Do to Service the Transmission?
Transmission maintenance for all Chevy models involves replacing the transmission filter, which is responsible for decreasing the amount of damaging debris that enters the system. In addition to a filter change, the transmission fluid is also replaced. Through the normal function of your Chevy's transmission, considerable heat and friction are present. These forces have a detrimental impact on transmission components. Without quality lubrication provided by the fluid, wear and tear would quickly result in repair issues. The fluid is replaced either through a transmission flush service or through a fluid chance service. Your owner's manual provides details about the automaker's recommended maintenance schedule. However, it is reasonable to expect proper maintenance results when this type of transmission work is completed at two years and 30,000 miles or up to three years and 45,000 miles.
How Can I Tell If My Transmission Fluid Needs to Be Changed or Flushed?

Flushing and changing transmission fluid are easily viewed as similar services. They do share some similarities, such as changing the filter and replacing the transmission fluid in the system's pan. Remember that some transmission fluid is also present in the torque converter and cooler lines, and this fluid remains untouched with a typical fluid change service. The important difference between a fluid change and a transmission flush is that a flush service also replaces fluid in the cooler lines and in the system's torque converter. Because the flush replaces all transmission fluid, this is viewed as a more significant and comprehensive type of maintenance work. One of our service technicians can examine the current condition of your Chevy's transmission fluid, and he or she can make a recommendation about the type of service that is most beneficial for your vehicle at this time.
How Can I Determine If My Car's Transmission Is Damaged?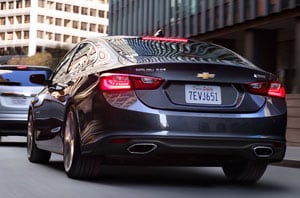 Maintenance service can extend the life of various transmission components, but many components will eventually wear out as you continue to use the car. Repairing minor damage to the transmission may decrease the chance of having serious transmission issues that keep you off the road. When you spot signs of Chevy transmission problems, bring your vehicle to our team for a diagnostic and repair appointment. These signs could include a burning odor, jerking felt when the vehicle changes gears, visible fluid leaking from the transmission and possibly the engine service indicator light turned on. Regardless of the type of repair or maintenance service that is needed today, our Chevy auto service techs are available to help.